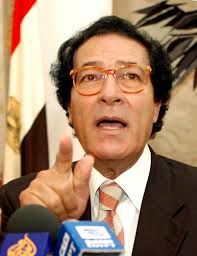 Egypt is pushing hard to get its culture minister named as the head of the UN agency promoting cultural diversity. But as Farouk Hosni heads to Paris Wednesday to campaign for the job, he has to overcome controversy over his comments vowing to burn any Israeli books in Egypt's famed Library of Alexandria.
Hosni made the remarks in April 2008 to Egyptian lawmakers to defend himself against charges of being soft toward Israel - and Holocaust survivor Elie Weisel and Jewish activists seized on them, warning in late May that Hosni was "a danger" if named to the UNESCO post.
The flap illustrates the role Hosni has played in 22 years as culture minister in an authoritarian nation where he must negotiate a path between liberals and conservatives, knowing who to appease and when.
As the longest-serving member in Egypt's Cabinet, the 71-year-old Hosni has won a reputation as a slippery political survivor.
MORE HERE IN HAARETZ